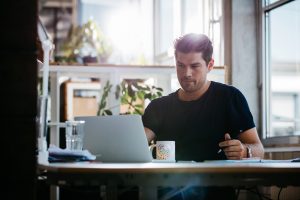 Can I Get a Mortgage if I'm Self Employed?
It's not easy to get a self-employed mortgage in Ontario. If you're self-employed and have tried to secure one with a traditional lender, you already know that.
Over the last few years, Canada's big banks and trust companies have implemented a large number of strict lending rules. On top of that, in 2014, the Canadian Mortgage and Housing Corporation discontinued mortgages for self-employed Canadians without third-party validation. Before that, if you were self-employed, you only had to state your income. A paper trail wasn't necessary to back up your claims.
That's not good enough now. Banks need to know with certainty how much you make. It's the only way you can prove to the big banks that you're not at risk of defaulting and worthy of getting a mortgage.
Granted, it is possible to get a mortgage from a traditional lender if you're self-employed, but any mortgage will be based on the reasonability of income at the time you apply, as well as a strong credit score. This sounds easy enough, but it can put home ownership out of reach for those who are self-employed.
For example, if you have less than a 20% down payment, you need to prove two years of income. Unfortunately, many self-employed people claim a smaller income for tax purposes. If this is you, the big banks will see you as a risk.
Or, the banks might give you a mortgage but only if you have a down payment of 30% or more. But with the strong housing market in Ontario, most self-employed people have not saved up that much for a down payment. As a result, they are unable to qualify for a mortgage.
Mortgage Options for Self-Employed Ontarians
There are two ways for those who are self-employed to qualify for a mortgage: with income validation and without income validation.
Validated income means you've been in business for two full years, the business is registered as a self-employed proprietorship, you have good credit, and you've declared income on your tax returns.
That doesn't mean you'll necessarily qualify for a mortgage with a traditional lender; it just means you have proof of income. You still need to earn enough and have enough money saved for the down payment when applying for stated income mortgages.
What if you have no reportable income? The only real option for those who are self-employed and have no reportable income is to use a private lender. A private lender will still want to know that you have an income, but they won't ask to see the kind of paperwork the banks would.
What's most important for lenders if you're self-employed and have no reportable income is your credit score, the quality of the property you're looking at, the location, and marketability.
Because private lenders are not regulated in the same way the big banks and trust companies are, they have more flexibility and can get you the best mortgage with the best rates for your particular situation. You may end up paying more interest, but you will also end up with a mortgage.
Self-Employed Mortgage Scenarios
Self-Employed with Bad Credit
Having bad credit can make it very difficult to secure a loan from a traditional lender. In addition to being self-employed, which the banks view as risky, bad credit suggests there is an even greater chance you'll default on a mortgage.
A private lender, on the other hand, is much more concerned with your current and future earnings than past mistakes. Your credit score may be bruised, but private lenders will still help you secure a mortgage if your business is profitable and you have steady income.
Self-Employed with Low Income
If you're self-employed and report low income, you can still qualify for a mortgage. There are a large number of private lenders that will help you secure a low-income or even no-income mortgage.
Again, private lenders understand that most self-employed Canadians try to minimize their taxable income. Private lenders know the difference between reported income and gross income. In fact, some private lenders will add 10% or 15% onto the reported income if you can show business deductions that are equal to or greater than that. This can significantly increase your mortgage eligibility.
Self-Employed and Over 55
One of the largest growing demographics among the self-employed in Ontario are those 55 years of age and older. You might be an entrepreneur but when you hit 55, banks only see that your long-term earnings potential is smaller than it was when you were 45 or 50. At the same time, chances are you're looking for the same kind of mortgage as someone who is 25 and just getting on the property ladder.
According to the big banks, this means you're less likely to be able to pay the mortgage off. Fortunately, there are private lenders that specialize in helping those who are 55 and older secure a mortgage.
Canadalend.com, Securing You the Mortgage You Deserve
If you're self-employed, it's going to be difficult to get a mortgage with a traditional lender. If a bank has turned you down, the mortgage experts at Canadalend.com can help.
Because the licensed mortgage professionals at Canadalend.com are independent, they have access to hundreds of different private lenders; many specialize in helping those who are self-employed get the mortgage they deserve.
To find out what kind of self-employed mortgage you qualify for, contact Canadalend.com today. Or apply online and a Canadalend.com lending specialist will help you set up an appointment for a free personal consultation at your earliest convenience.
Photo credit : iStock.com/Jacob Ammentorp Lund