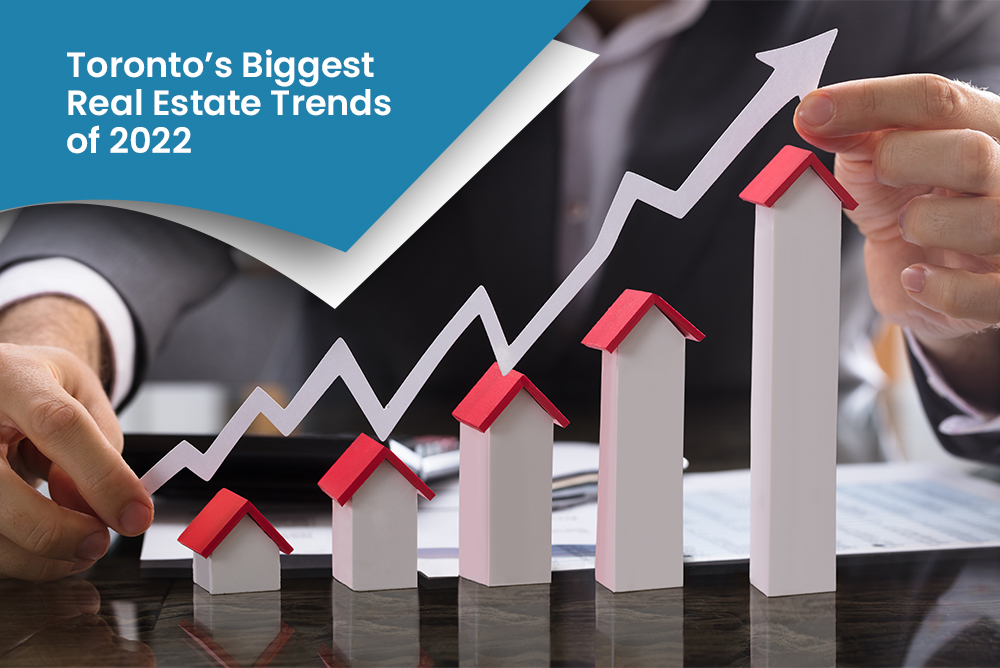 Toronto's Biggest Real Estate Trends of 2022
Posted on 20th May 2022
Tags:
Through 2022, Toronto's housing market will likely remain in strong seller's territory because of low housing supply and strong demand.
Single-family homes enjoyed the largest year-over-year price increase last year for single-family homes, rising from $1,477,519 in 2020 to $1,710,304 in 2021 (+15.7%). In 2020, townhouses rose from $835,615 to $935,015 (+11.9%); and condos climbed from $673,708 to $709,602 (+5.3%).
A higher level of inventory supply is expected to lead to higher activity in the fall of 2022 in the condo market, which was the most active property type in the fall of 2021. After COVID-19, increasing levels of employment and income will both be key factors in a growing real estate market.
It became clear very early during the pandemic that inter-provincial migration was a trend that would be sustained through 2022. As a result, Toronto's immigration rate will far outweigh its out-migration trend, inflating Toronto housing prices further in 2022.
In 2022, Toronto housing prices are expected to rise by 10 percent on average.
Canada's Housing Market Outlook for 2022
According to RE/MAX's 2022 Canadian Housing Market Outlook Report, the national real estate market is expected to sustain steady growth in 2022, mainly driven by inter-provincial migration.
Brokers and agents participating in RE/MAX surveys contributed to the report. Housing shortages will continue to drive prices higher for some time. Due to these factors, RE/MAX Canada expects Canadian home prices to rise 9.2 percent on average.
In the summer of 2020, the real estate trends began to see more interprovincial relocation, which is expected to continue in 2022 based on feedback from brokers and agents. Less densely populated areas and neighbourhoods are more affordable and often come with more amenities such as space, which makes them appealing to buyers.
It is quite clear that the housing supply has to be expanded in these regions so they are able to retain these attractive qualities and also their relative market equilibrium. There is a high probability that conditions in these regions will worsen if there are not more new homes built and if demand rises.
The real estate market in Canada continues to be robust despite the global pandemic. A survey done for RE/MAX Canada found that 49 percent of participants believe real estate in Canada will continue to be one of the best investment choices in 2022 (59 percent of homeowners compared to 34 percent of non-homeowners, including renters and those looking to buy). The Canadian real estate market is also anticipated to remain stable next year, with 49 percent of respondents believing so.
The following is a detailed breakdown of TRREB's market outlook for 2022:
The number of sales through the Multiple Listing Service in the GTA is expected to reach 110,000 in 2022, a drop from 2021, but still a strong result when compared to earlier years.
Altogether, the average selling price for homes is expected to climb to $1,225,000, up approximately 12% from last year.
It is likely that housing markets in 2022 will continue to be impacted by factors that include labour market conditions and population growth, as well as the prospect of multiple interest rate hikes by the Bank of Canada this year.
As a result of the limited number of listings, competition among buyers is expected to remain high and prices will rise by double digits.
The early stages of the pandemic brought on a trend of migration across provinces, something that had been prompted by the new remote work culture and it is still going on. At the same time, there has been a collective desire for bigger living spaces to make home life more comfortable while working remotely and spending much more time at home.
Like last year, 2022 will be the same - too many buyers, too few homes available.
A few key factors will keep home sales from reaching last year's record pace.
The increase in borrowing costs in 2022 will have a negative impact on some consumers on the edge of affordability who may temporarily put off their purchases.
Despite a year of above-average per capita housing sales in 2021, there will be some reversals in 2022 because there is a smaller pool of buyers.
As a result, there will always be a shortage of inventory in the Greater Toronto Area, meaning that many potential buyers will not be able to purchase a property.
In the TRREB's latest Consumer Survey, Ipsos polled consumers about their buying intentions for 2022 and the results of those polls indicate that overall spending plans are down, while the percentage of consumers who said they are very likely to buy this year remained consistent with what TRREB forecasted.
According to the findings, buyers who are fully committed to buying a home in 2022 will purchase one, whereas buyers on the fence may decide to put their decision on hold.
A Few Highlights:
With prospective buyers, detached houses remain the most popular type of home, especially in suburban areas.
Condos are expected to be hot property in Toronto for the foreseeable future. New listings should creep up between February and March and then from March to April, when you tend to see a higher number of listings. April tends to be your strongest month for new listings. Thus, you see that your strongest month is generally May - just that some of your listings in April turned into sales in May.
The percentage of first-time buyers is likely to decrease overall over the next few years. There will be fewer homeowners in the Greater Toronto Area (GTA), including Toronto and the surrounding suburban areas, who are likely to list their homes for sale in 2022.
Homeowners in Canada are aware of their home's value as well as its potential for investment. There was considerable anxiety this past year regarding local markets due to rising prices and limited supply, causing frustration among those looking to enter the market as well as those looking to move up in it.
Although there may still be obstacles to overcome, it is encouraging to see that the majority of Canadians are confident in the housing market in 2022 in regards to buying Canadian real estate.
For more information on getting a Mortgage in Toronto, call Canadalend at 1-844-586-0713 or contact us here.