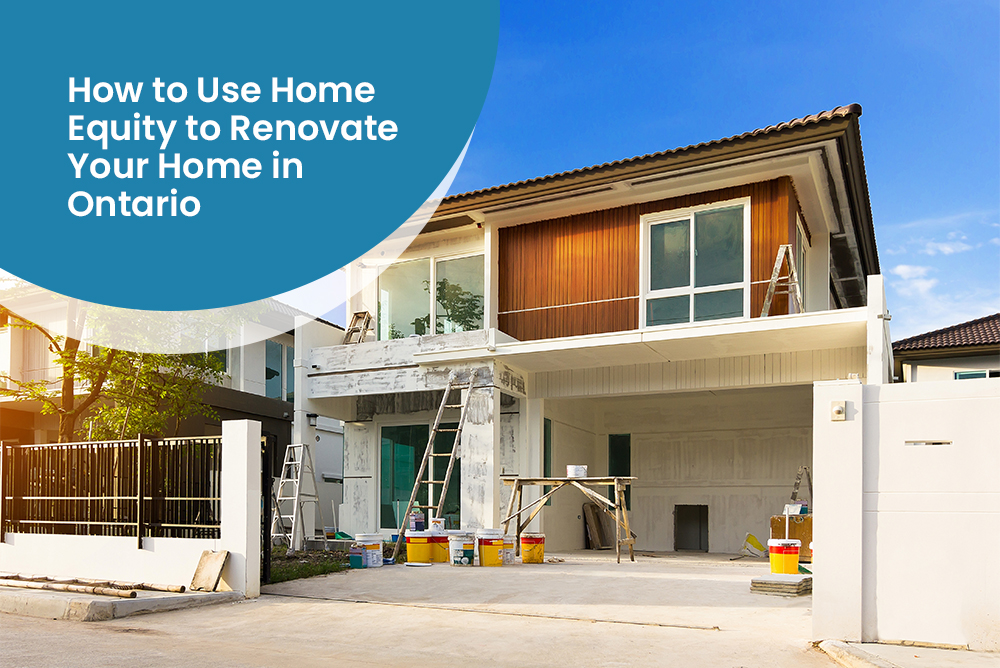 How to Use Home Equity to Renovate Your Home in Ontario
Posted on 8th June 2022
Tags:
In the wake of the COVID-19 pandemic, more homeowners have been renovating their homes to convert rooms to home offices, increase the amount of living space or just make improvements to feel more comfortable indoors and outdoors. According to the latest consumer study, 23% of Canadian homeowners have renovated in the past year and another 21% are planning to do so in the near future.
Reduced spending on going out for dinner, movies, commuting and even clothing, 25% of Canadians find that they have saved money during the pandemic, according to Scotiabank's November 2020 survey. In spite of these savings, however, Canadians will have to borrow at least part of the cost of their renovations. The question is what is the best option for them?
Here Are Some Common Financing Options for Home Renovations
First, Determine If You Can Afford to Finance the Renovation
As long as you have the ability to repay the debt you incur from a renovation, it's okay to borrow money for it. The key here is to understand how your loan's interest rate and repayment structure will impact your finances. Would you be able to afford the monthly payment on a loan of $30,000 or a line of credit of $50,000, for example?
In the event of a steady income, you may be able to qualify for credit. This does not mean you should apply right away, however. It is probably a bad idea to renovate if you cannot get a secured loan or a line of credit.
A lender's decision to decline your loan is based on your credit history, debt, income, and other factors, including the scope and affordability of the project. You might want to scale back the renovation or wait until you've saved up a greater chunk of the cost.
Home Equity Loans (HELOC)
Generally referred to as a HELOC, a home equity line of credit is a credit line that you can secure by using the equity in your house. A HELOC can be obtained from nearly any bank or credit union, and since the loan is secured by the home, the interest rate is lower than that of an unsecured loan or line of credit.
Borrowers usually can borrow up to 80% of the appraised value of their home minus any mortgage payments they owe. Besides structuring interest payments, the homeowner can move money in and out of the line as desired.
You can use the money for whatever you like once you've been approved. HELOCs are often set up with lenders by homeowners to make credit available immediately in case of an urgent need. A person prone to overspending or who has trouble setting boundaries may find it dangerous to use this type of credit.
The following is an example. Your lender approves a HELOC of $100,000 or more at a great rate and you only need $10,000 to fund a small renovation. Taking a vacation or increasing the scope of your renovation can seem extremely appealing. Payments made back to the credit line make the credit available again, allowing you to borrow again. Making only the minimum payment each month – usually just the interest on what you've already drawn – can result in your debt skyrocketing.
If you use a HELOC to cover planned expenses only, avoid using it to fill budget gaps or make discretionary purchases.
Ask your lender for a limit you can afford if you're concerned about overspending on a HELOC. Getting the maximum amount approved does not obligate you to accept it. If all you need is half of what they're offering, ask them to meet you there.
A HELOC is typically applied for by homeowners through their mortgage lender, but a mortgage broker can help you find a better rate. If you decide to go this route, be sure to ask the mortgage broker if there are any fees associated with their services, as the lender typically pays the broker but not always.
Mortgage Refinancing
The amount of money you borrow to purchase your home increases when you refinance your mortgage.
Your mortgage is then rolled into balance with the new amount. Your mortgage payment covers your loan and line of credit payments, so you don't have to worry about them separately. Many homeowners choose to refinance their mortgages because they offer the lowest possible interest rate since it's a first mortgage backed by equity in their home.
The process of refinancing with your mortgage lender is relatively straightforward, and our experts suggest you do it when your mortgage is up for renewal. Fees may be significant if you refinance during your mortgage term. Despite fees, you may benefit from the new rate if it is significantly lower; ask your lender to crunch the numbers before committing.
If you have a tendency to spend, refinancing your mortgage is a smart idea since it requires less discipline. There will be a lump sum provided to cover the cost of your renovation, and the repayment schedule is fixed. You cannot actually abuse that money, nor can you get extra.
By adding to your mortgage principal, you will owe more, and consequently, your monthly payment will be higher. Even if you borrow more, if you lock in a lower rate when adding to the loan, you could actually end up paying less monthly.
Loans or Lines of Credit That Are Not Secured
Banks, credit unions, and subprime lenders offer unsecured personal loans and lines of credit. Personal loans are lump sums that you repay with interest on a set schedule. As you repay the funds borrowed, you will continually regain the credit limit you originally borrowed, but at a higher interest rate since your home is not secured. Most personal loans and personal lines of credit come with similar rates of interest.
Although this kind of credit can be useful during an emergency, it's not a good option for planned renovations. In addition to the higher interest rates on these options, you will likely have less money available to you, which limits your options.
In certain circumstances, however, a line of credit or an unsecured loan from a reputable lender may be helpful. In some cases, it's better than using a credit card as it's easier to pay it off quickly.
On the other hand, it isn't ideal for most people or inexpensive. HELOCs are usually indexed to the lender's prime rate plus 1%, whereas personal loans may have interest rates between 6% and 16% or more, depending on the lender and terms, as well as your credit history and debt load. Standard credit cards have interest rates of 19% or higher.
What's the point? Although personal loans can be a lifesaver in an emergency, they aren't ideal for most homeowners and should not be used for discretionary purchases.
Borrowing Money from a Family Member
It's common for your parents or other family members to offer to lend you money towards your home renovation, but this is not always the best choice. In the CRA's perspective, the lender's interest rate is supposed to be determined by a formula, but that doesn't happen very often.
Family dynamics can be affected as well, resulting in conflict or tension. When there are a lot of siblings in your family, it is best to avoid borrowing money from your parents. This could lead to awkward situations commonly found when dealing with family estates.
Consider These Other Factors When Borrowing Money for Home Renovations
Renovations can be expensive, but they often increase the value of your home, which is helpful if you're planning to sell soon. You may get a good return on your investment. In addition to improving real estate value, home renovations can also have a positive impact on your quality of life.
For more information about mortgage refinancing in Ontario, call Canadalend at 1-844-586-0713 or contact us here.