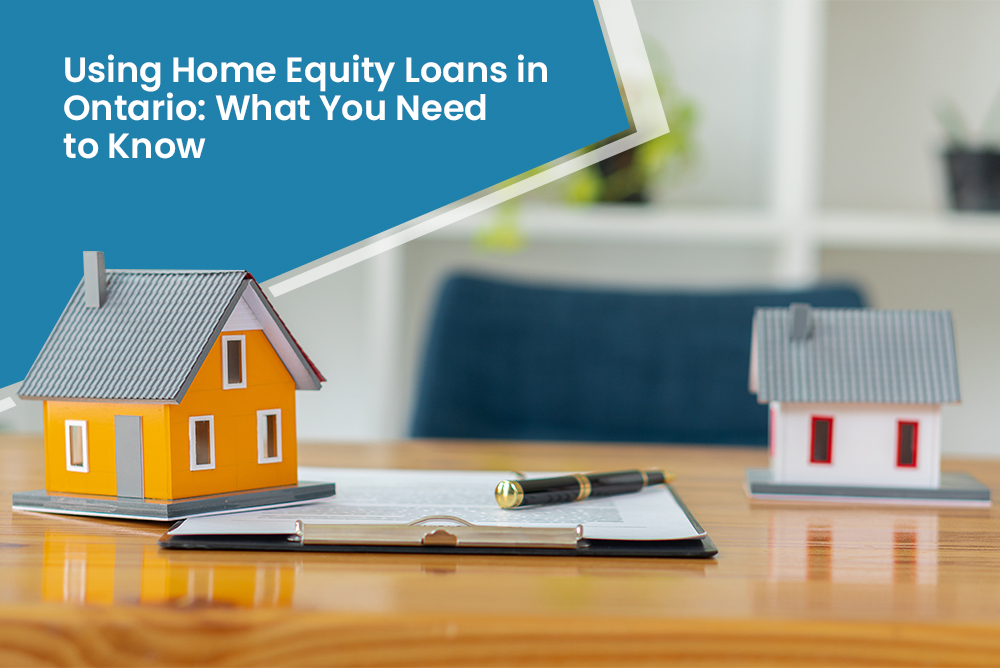 Using Home Equity Loans in Ontario: What You Need to Know
Posted on 11th April 2022
Tags:
Over time, homeowners build equity as they pay down their mortgage. Their home equity increases as more payments are made on their mortgage. As the housing market fluctuates, the value of your property will also increase, thus raising your equity.
Many homeowners choose to buy something of value with their equity. An instance of this might be an addition to their house, repayment of their existing car loan, or schooling for their children. No matter what the cost may be, they will pay it off with equity.
Considering paying off your mortgage early? Here are some options.
Is there equity in my home?
As long as you've been paying off your mortgage for several years, you likely have some equity in your home. Equity is built as you pay down your mortgage. You will need to have your home appraised before taking out a second mortgage using your home equity. Here is how to estimate your equity if you're just curious or want to get a general idea before you speak with your lender.
What is a good time to take out a home equity loan?
In the event that you need funds for:
Renovating your home
Additions or improvements to your home
Purchase of a new vehicle
To cover the costs of your children's schooling
If you are in business
Consolidate your debts
These loans are perfect for you if you meet the requirements.
How can I access my home equity?
The following traditional methods of accessing home equity are generally available to homeowners:
Home equity loans
HELOC
Mortgage refinancing
Second mortgage
Loans for Home Equity
A home equity loan uses your house as collateral. They work the same way that every other secured loan does. Depending on the value of your home, you will be able to borrow a specific amount of money. There will be an interest charge and a fixed payment schedule.
What is the process for getting a home equity loan?
Obtaining a home equity loan requires a number of factors, such as owning a home (which must be appraised by your lender), having a significant amount of your mortgage paid out, and being financially stable enough to withstand the debt you will incur with the loan.
How do I use a home equity loan?
Home equity loans allow you to borrow up to 80% of the appraised value of the property, less what's still owed on the original mortgage. Both mortgages must then be paid at the same time. 
A Home Equity Line of Credit (HELOC)
An equity line of credit differs from a home equity loan in a few notable ways. Because of this, you have the flexibility to use your line of credit whenever you like, and you can regain full access once the balance is cleared.
What is the process for getting a HELOC?
Banks and most traditional lenders, as well as private mortgage lenders, offer credit lines. In general, banks require that you have a high credit score to qualify. A prospective borrower should have their property appraised before applying for a HELOC to ensure that they have enough equity in their home. In order to qualify for these lines of credit, borrowers must have at least 20% equity in their homes.
What is the best way to use a HELOC?
Approximately 65% of your property's appraised value can be borrowed with a HELOC. Nevertheless, if your lender allows you to combine your HELOC with the remainder of your mortgage, your borrowing limit will increase to 80% of the home's appraisal value. If you keep up with your monthly payments, you will be able to borrow from your secured credit line as you please.
Mortgage Refinancing
Using a refinance loan means replacing your old mortgage with a new one. As a result, you will be able to access a portion of what you have accumulated in equity. If you wish to borrow a larger amount, you will have to meet with your lender. The important thing to remember is that you will have to make large payments and your equity will go down. 
How to Refinance Your Mortgage
Mortgage refinancing requires an appraisal of your property. Your original mortgage contract will need to be broken and a new one negotiated through either your current lender or a new lender. If you decide to refinance your mortgage to access your equity, you will be responsible for a prepayment penalty fee if you break your mortgage contract. 
Having a Second Mortgage
Second mortgages are loans taken out against properties that have already been mortgaged. A second loan can then be obtained with your house as collateral. Take care, however, when you get a second mortgage because you'll have two mortgage payments to make. Due to the fact that your home acts as collateral, if you miss mortgage payments and the lender decides that you won't pay them back, they have the right to foreclose and possibly sell the house.
Benefits of Using Your Home Equity
Your equity can be used to increase the value of your home. Since your home is a valuable asset, you can borrow against your equity to finance any home improvements that you might want to do. This will increase the value of your home if and when you decide to sell it.
You may be able to deduct the interest from your tax return if you decide to invest the extra money from your second mortgage loan for investments that will generate income.
However, this is not limited to home renovations or financing new properties. Some homeowners use their equity to pay for their children's or their own education, or even to take a vacation. If you have any other debts with higher interest rates, then you can consolidate them with your equity.
Disadvantages of Borrowing From Your Home Equity
There are various fees that must be paid before you can borrow from your home equity. For example, you must pay an appraisal fee, an application fee, and legal costs before you can access the funds. Initially, variable interest rates can be cheaper than fixed interest rates, so you might choose to borrow at a variable rate. However, be aware that your interest rate may change if you make a variable rate choice.
When you use your home equity for investment purposes, you will face risks. Not only will you be subject to taxes if you use it unsheltered, there is also the possibility of losing your money if the stock market fluctuates.
Foreclosure can result if you default on your payments. If you default on your payments, then your home can be taken. You must therefore be absolutely sure that you can make regular payments before taking out a second mortgage.
What will you do with your home equity in 2022?
Ultimately, only you can decide on how to access and use your home equity. Choose the path that best fits your financial situation. Don't make the decision before you've received all the advice you can, and then weigh all your options carefully. 
For more information on home equity in Ontario, call Canadalend at 1-844-586-0713 or contact us here.