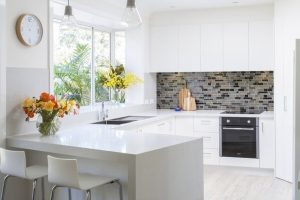 Renovations can be tiring, expensive and disruptive. Choosing what to renovate and knowing the ins and outs can not only streamline the process but add value to your home. To sellers, the kitchen is your biggest showstopper and strongest selling feature. Best of all, every dollar spent can equate to bigger offers down the road.
What do people renovating their kitchen need to know?
Is it for Living or Listing?
First, determine if your goal is resale value or to enhance the personal appeal of your living quarters. Unless you have already decided that your home will be listed, you should renovate based on your needs and desires. Your personal tastes should be placed at the forefront.
Consistency and Flow
If you are undertaking a kitchen renovation, remember that the rest of your home will remain the same. A Victorian-style home filled with antiques will make a modern kitchen feel detached. Renovate with your home in mind and create a consistent feel that flows from room to room. Your renovations shouldn't render your kitchen some floating appendage.
Appliances
Instead of just opting for the latest and priciest, invest more in the appliances that you will use. If you won't regularly use an anti-griddle or a heat lamp, then spend your money elsewhere.
A better dishwasher, a stove with extra burners and more counter space are useful parts of a kitchen to focus on, rather than a salamander or pizza oven
Functionality Trump Trends
Trends come and go. It's far too easy to get caught up in one only to have regret when the trend shifts, as it inevitably will. A kitchen needs to be functional, logical and safe. Everything else can be placed in the "wish" pile. Of course, you can indulge here and there, but make choices to create a kitchen that you will still love five years in the future. Remember, kitchens should not be renovated every year. One renovation should have lasting power.
Renovating your kitchen is a great way to refresh a home and increase its overall value. Your tastes and needs are the perfect guide.