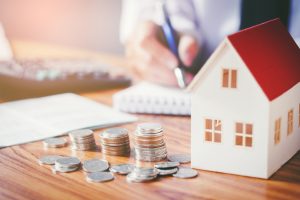 iStock.com/SARINYAPINNGAM
A lot of Canadians are house rich and cash poor; meaning, they're good at paying down their mortgage, but at the end of the day, don't have a lot of disposable income. That can make it difficult for the average Canadian to come up with the much-needed funds for an unexpected expense, purchase, renovation, debt consolidation, etc.
Two of the most popular ways for homeowners with more than 20% equity in their homes to free up some cash is with either a home equity loan or home equity line of credit (HELOC). They sound alike, but they're very different; understanding these differences will help you decide which one is right for you.
What Is a Home Equity Loan?
A home equity loan, often referred to as a second mortgage, is secured against your property. It acts like your primary mortgage and is second in line to get paid off should there be a default.
After you are approved for a home equity loan, the lender will send you a one-time lump sum payment that is paid off over a set period of time with a fixed interest rate, and predetermined monthly payments. Just like the primary mortgage, you are charged interest on the total amount of the home equity loan as soon as you receive it.
Credit Limit with a Home Equity Loan
With a home equity loan, you can borrow up to 80% of your home's appraised value, minus the unpaid balance on the primary mortgage.1 The interest rate can either be fixed or variable. While the interest on a home equity loan is generally higher than on the existing mortgage, it is a lot lower than other types of loans.
Uses for a Home Equity Loan
Anything! It's your money, you can use it for anything you like, including renovations, debt consolidation, paying for tuition, a wedding, investing. The sky's the limit!
What Is a Home Equity Line of Credit (HELOC)?
Like a home equity loan, a HELOC is secured against your house and allows you to access the equity you've built up in your property from paying down the mortgage and as the price of the home has increased.
A HELOC is a revolving line of credit with an adjustable interest rate that goes up and down with the markets. As a line of credit, the money is deposited into an account that you can access as little or as much as you want, whenever you need it. Unlike a second mortgage, there are no fixed repayment amounts; the lender usually only requires you pay the monthly interest on the money you use.
Credit Limit with a HELOC
The credit limit on a HELOC combined with a mortgage is 65% of the home's purchase price or market value. You can increase the credit limit on a HELOC to 80%, but only if it is combined with a regular mortgage.
Using a HELOC to Pay Down a Mortgage
You can use your HELOC for anything you like. You can even use a HELOC to pay down a mortgage. The interest rate on a HELOC is blended or the same as your usual mortgage. Because it can be blended, a lender can change the HELOC rate at any time.
Does that mean you shouldn't use a HELOC to pay down your mortgage? Not necessarily. The interest on a HELOC might be a little higher than the interest on your mortgage, but you're only charged interest on the amount you actually borrow from the HELOC, not the entire amount—like you are with a mortgage.
The same payment using a HELOC compared with a mortgage actually pays down more principal; the mortgage then gets paid down a little faster and with less interest.
A Home Equity Loan or HELOC: Which One Is Right for You?
That's something only you and your lender can decide on. But there are times when one might make more sense over the other.
For example, a home equity loan might be a good choice for homeowners who need upfront money for a one-time event (renovations, wedding, etc.) and like the idea of a fixed-rate loan.
If, however, you want to have access to the money over a longer period of time, a HELOC might be a good idea. Especially if you can pay the amount you borrowed back right away; this would mitigate any costs associated with a variable interest rate.
Or, if you're a homeowner with bad credit or only have less than 20% equity built up in your home, you might want to look at getting a home equity loan from a private lender. Private lenders do not have to follow the same strict guidelines that Canada's big banks do. Instead of hurdles, private lenders provide you with more options, freedom, and flexibility.
Canadalend.com, Helping Ontarians Access Their Home Equity
The vast majority of Canadians have not saved up money for a rainy day. That's why more and more homeowners are accessing the equity they've built up in their homes; either with a home equity loan or HELOC. And no one is better at helping property owners tap the equity they've built up in their homes than Canadalend.com.
Unlike the big banks, which only try and sell you their own financial products, the licensed mortgage professionals at Canadalend.com are independent. We have access to hundreds of different lenders. That means Canadalend.com can find you a lender that will provide a home equity loan or HELOC that the big banks can't.
Apply online in 60 seconds & get approved now!
Call us for more information 905.881.0242
If you're a homeowner and are looking to take out a home equity loan or HELOC, contact Canadalend.com today. We'll evaluate your current financial situation and help you find a lender that can provide you with a financial product that suits your needs. Or apply online and a Canadalend.com lending specialist will help you set up an appointment for a free personal consultation at your earliest convenience.
Sources:
"Borrowing against home equity," Government of Canada, January 31, 2018; https://www.canada.ca/en/financial-consumer-agency/services/mortgages/borrow-home-equity.html.