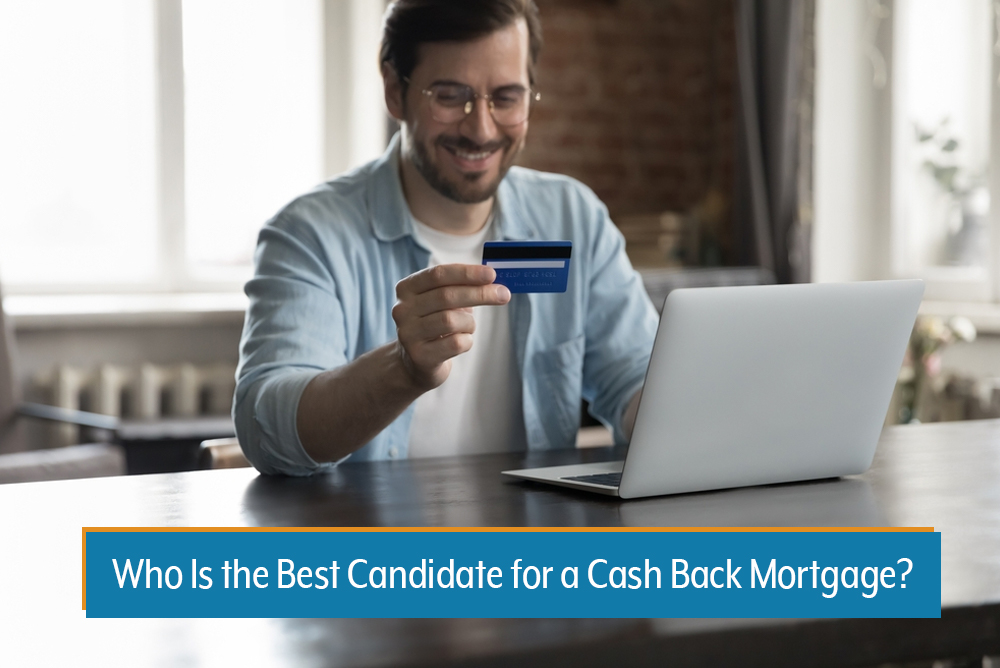 Who Is the Best Candidate for a Cash Back Mortgage?
Posted on 19th April 2023
Tags:
Without a doubt, purchasing a home is one of the greatest financial investments that anyone can make in their lifetime. This is why choosing the most suitable mortgage is critical to every new Canadian homeowner's buying journey.

Cash back mortgages, in particular, have become a progressively popular choice for borrowers who require extra funds to cover certain expenses, such as costs related to moving, closing costs, and other common fees associated with home buying.

However, it's important to understand that this mortgage solution may not be the right move for every homebuyer, and you should first determine (ideally with the help of a professional) whether you are a suitable candidate for a cash back mortgage before making any major decisions.

With that being said, in this article, we will be helping new homebuyers understand what a cash back mortgage is and the types of homebuyers they are most appropriate for.
What is a cash back mortgage?
A cash back mortgage allows borrowers to obtain a certain amount of money back from their lender during the finalization of their mortgage loan. The borrower will typically receive the cash back funds instantly upon the mortgage closing date.

Cash back mortgages are most commonly used to cover closing costs and other charges, purchase furniture and appliances, helping to fund renovations and upgrades or cover the costs of general unanticipated expenses that follow the purchase of a home. 
Additionally, cash back mortgages are often used to pay off the debts created by high interest, such as with a credit card or other type of personal loan.
How much money am I eligible to receive with a cash back mortgage?
When it comes to the amount that borrowers are eligible to receive with a cash back mortgage, it will depend on the size of the loan, with a lump sum of generally 1%-7% offered (with 5% being the most common).
For example, let's say you've been approved for a $500,000 mortgage, and you've arranged to receive 5% cash back. Upon your mortgage closing, you will receive a lump sum of $25,000, with a mortgage balance of $525,000, even though only $500,000 is technically registered as your mortgage. The $25,000 is registered as a loan.

Furthermore, there may be a maximum amount that you are eligible to receive as per the lender's rules. The funds will always be tax-free, although the mortgage interest rate will generally be around 1.75% higher than a conventional mortgage. Additionally, if the mortgage is broken early, you will be required to return some of the cash back amount.

As soon as a borrower's mortgage has been finalized and they receive their cash back funds, they'll be required to start making mortgage payments. The cash back value will be included in the mortgage payment balance, with each payment automatically contributing to its amortization for 25 years.
Who is a suitable candidate for a cash back mortgage?
A cash back mortgage can be a suitable option for many types of borrowers, from first- to second-time homebuyers to borrowers who are interested in refinancing their current mortgage.

While it is true that a cash back mortgage may be an excellent option for some, unfortunately, like with all types of loans, not everyone can qualify for it. In fact, a potential borrower will only be considered as an eligible candidate for a cash back mortgage if they possess a minimum credit score of 650, have a low debt-to-income ratio, have a stable income, and are applying for the cash back home loan as an owner-occupier (never as a renter).

At the end of the day, a cash back mortgage can be a considerably attractive option for many homebuyers in Canada, especially if they could use some extra funds to help with the associated costs. However, as always, it is important to do your research and seek help from a professional before making any official decisions about any mortgage option.

The good news is that our mortgage experts at Canadalend.com would be pleased to consult with you to determine whether a cash back mortgage is the right choice or if another kind of mortgage would be more beneficial for your financial situation.
Ready to purchase your home with a cash back mortgage?
Our mortgage lenders in Ontario are ready to lend a hand. Canadalend.com can provide you with the financing that's best suited to your needs, whether it be a cash back loan, refinancing, a home equity loan, a second mortgage, or a reverse mortgage.
If you're interested in purchasing a home in Ontario and want to learn more about our mortgage solutions and financing options, call Canadalend.com at 1-866-I CAN LEND or contact us here.