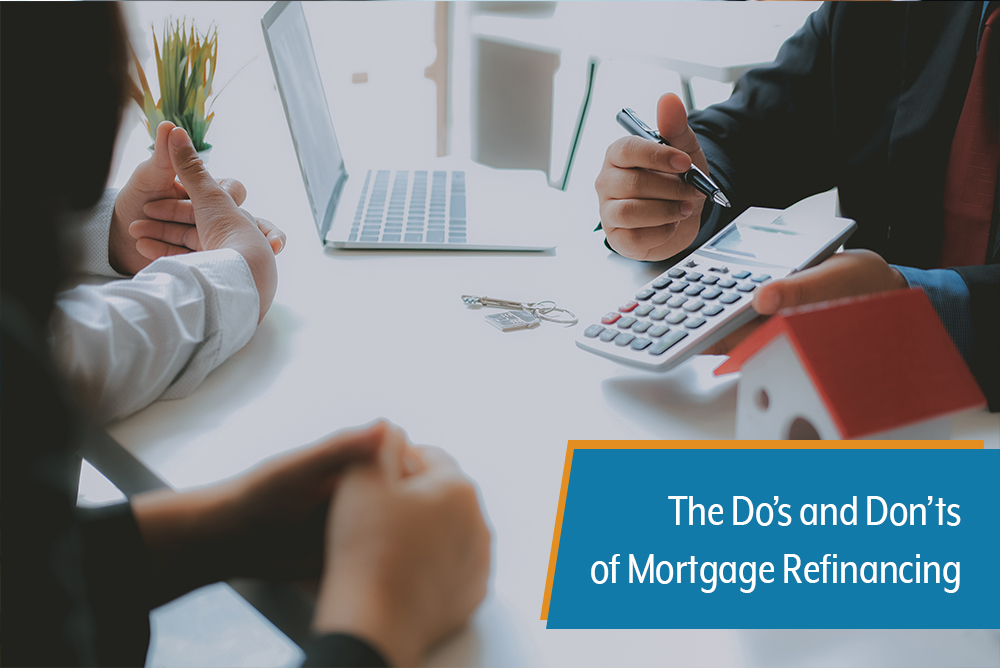 The Do's and Don'ts of Mortgage Refinancing
Posted on 12th April 2023
Tags:
Mortgage refinancing can be a wise financial decision for Canadian homeowners looking to reduce the cost of their monthly mortgage payments, shorten their loan term, or simply access the equity they have already built in their homes.

However, mortgage refinancing may not always be the best answer for every homeowner, and there are a number of factors to consider before deciding to go this route.

In this article, we will explore several do's and don'ts of mortgage refinancing so that you can maximize your cost savings while avoiding common mistakes that borrowers often make.
Mortgage Refinancing Do's and Don'ts
DO:
Put your best foot forward as a borrower candidate.
As lenders are more cautious today than ever when it comes to making deals with borrowers, you will need to have proof of steady income and employment ready to show your prospective lender. If you happen to be unemployed at the time of your mortgage refinancing application, put together any evidence you have that can demonstrate a history of consistent income prior to your unemployment.

Moreover, you should also make sure that you have a strong credit score before proceeding with your mortgage refinance. Fortunately, there are several ways you can help to strengthen your score before starting your mortgage refinancing process, if necessary.
Shop around to find the best deal possible.
When finding a lender for your mortgage refinance, don't simply pick the first one you stumble upon that seems like the right fit. It's important to explore all of your options until you know that you're going with the lender and agreement that suits you best and is capable of saving you the most money possible.
Know what your closing costs will be.
It's important to always be in the know about what your closing costs will be. This is because the refinancing process will include certain fees, many of which may actually end up costing you more money, thus going against your goals.
These additional costs include registration fees, legal fees, and prepayment penalties, which can be the heftiest of all (but will only be applied in the case of breaking a term too early or having too many months remaining on either a fixed-rate or closed mortgage).
Have all of your necessary documents ready.
It's important to have all of your appropriate documentation gathered and ready to present when applying for mortgage refinancing, as there will be no time to waste, and you'll want to lock in your rate as promptly as possible.

These documents include your credit score, a recent mortgage statement provided by your lender, proof of employment via pay stubs, bank statements and/or a letter of employment, proof of income via tax documents, an estimate of your property's current value, as well as a recent copy of your property tax statement or Final Property Tax Bill.
DON'T:
Refinance at an inopportune time.
Homeowners should only refinance the mortgage of their property when it is financially beneficial to do so or when more savings are guaranteed in the long run. Additionally, it is not advised to refinance if you are working with less than 20% in home equity at the time of consideration.
Fail to perform a background check on your lender.
Unfortunately, some lenders will offer very low and attractive rates, only to have a hidden agenda to take advantage of you. This is why it is crucial to perform a background check on your prospective lender and lending institution before going through with a deal, in addition to performing a thorough evaluation of the terms of the mortgage you are being offered (never overlook the fine print).
Fail to lock in your interest rate immediately.
In the world of mortgages, interest rates are constantly fluctuating, with the potential to be low one day and high the next. That's why we strongly advise borrowers to lock in their mortgage refinance rate as soon as possible, as it will then no longer be at risk for a changing (and potentially higher) rate while their loan application is being processed.
Neglect to thoroughly read and understand your refinancing agreement's terms.
Never rush reading through each legal document pertaining to your mortgage refinancing application and agreement. Again, always pay careful attention to the fine print and the clauses outlining critical details, including the mortgage term and interest rate, amortization period, options for prepayment, penalties, and others. Moreover, if you're unsure about anything in the terms, ask your lender or broker about it.

In conclusion, mortgage refinancing can be a very valuable option for Canadian homeowners looking to improve their financial situation. By doing the necessary research and following the aforementioned do's and don'ts of mortgage financing, you can make informed decisions while dodging common mistakes that can be quite easy to make.
Interested in refinancing your mortgage?
Our mortgage lenders in Ontario are here to lend a hand. Canadalend.com can provide you with the financing best suited to your needs, whether it be mortgage refinancing in Ontario, a home equity loan, a second mortgage, or a reverse mortgage.
To learn more about our mortgage refinancing solutions and financing options, call Canadalend.com at 1-866-I CAN LEND or contact us here.