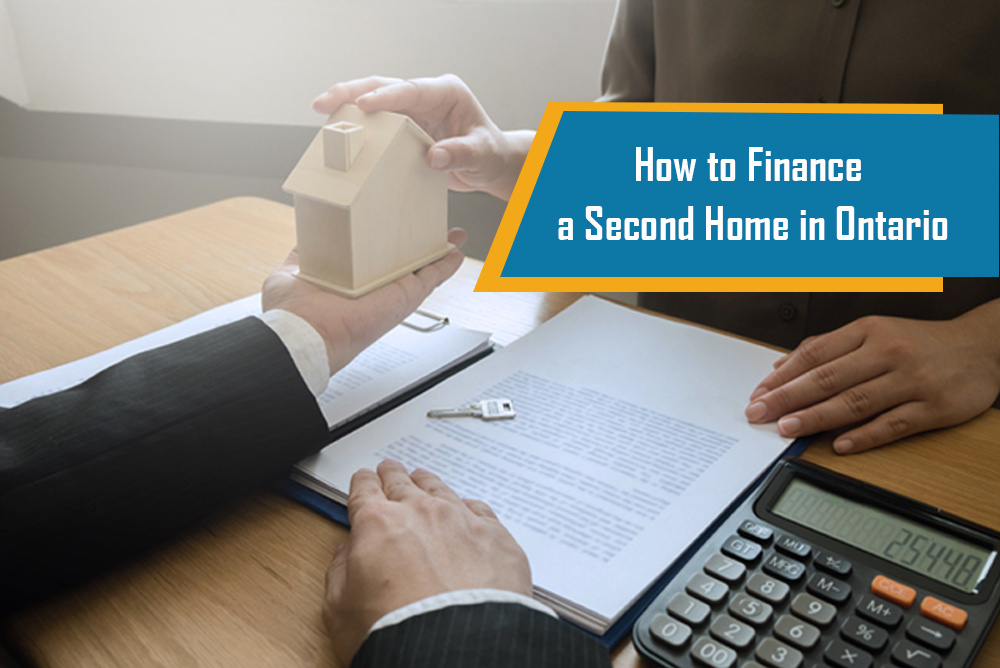 How to Finance a Second Home in Ontario
Posted on 14th October 2022
Tags:
Many Ontarians have been thinking about how they could enrich their present lives and secure their future through acquiring a second home. Does this sound like you?
Whether it be a pied-à-terre-style home away from home, or a lakefront cottage for those much-needed escapes from the city, a secondary property can provide homeowners with a foundation for new amazing memories, all while securing additional long-term profits and a diversified investment portfolio.  
However, how exactly can homeowners in Ontario go about financing an additional home? In this article, our experts at Canadalend.com will discuss some of the options available when it comes to financing your secondary property, so you can reap the rewards starting today.
Option One: Refinance Your Current Mortgage
In most cases, the best choice available is to refinance one's current mortgage (a.k.a., breaking the mortgage early) in order to gain access to funds to purchase a second property. Referred to as the "first-position charge on the title," this loan will generally come at the lowest rate when compared to other loan types. If a borrower chooses to refinance their current mortgage, however, they should be aware that there are penalties for paying out the mortgage loan ahead of its renewal. That's why it's important to go over these numbers with a Canadalend.com mortgage advisor prior to making your decision, so you know exactly what to expect.
Option Two: Use Your Home Equity as Security Against a Second Loan
If refinancing your current mortgage is not feasible, it is possible to tap into the equity you've accumulated in your primary residence. Then, you can use this home equity as security against an additional loan.
Understanding Home Equity
Briefly, home equity is the amount of property that a borrower owns as they continuously pay their mortgage down. This appreciates in value along with the price of the residence. The prices of homes will generally rise each year, so as homeowners continue to pay down their principal loan balance, their stake in the property simultaneously increases. It's standard for borrowers to wonder whether home equity can be used to purchase a secondary property. While the answer is "yes," the amount of equity that is attained in the property will have an impact on just how much money they are allowed to borrow.
Understanding the Home Equity Line of Credit (HELOC)
A common option for tapping into home equity is via a HELOC (home equity line of credit), which is a loan provided by either a bank, credit union, or alternative lender (including our Canadalend.com team) that is secured by the value of the primary home, and, therefore, coming at a relatively lower rate. In many cases, when a borrower receives their first mortgage, they will automatically be eligible for a HELOC, and it will reflect the already accumulated equity in the home. Fortunately, a HELOC is generally flexible in nature, and allows for money to be withdrawn, paid, and even borrowed again at the borrower's convenience. Interest is only to be paid on the portion of the HELOC that is being used. Moreover, Canadians are eligible to receive up to 65% of the value of their property through a HELOC. However, the balance of the mortgage loan outstanding, in conjunction with the HELOC, cannot equate to more than 80% of the property's value. Option Three: The Second Mortgage
"Second mortgages" provided by private lenders are another option but are generally used in cases where a borrower needs to consolidate debt if they've recently experienced the loss of a job or issues with credit health. These mortgage proceeds come in one lump sum, but also have a higher rate due to the greater risk involved. Furthermore, borrowers must reapply for another loan if they require more money beyond that initial lump sum. In some cases, homeowners use a second mortgage as a down payment on their property as a way to avoid mortgage insurance. Occasionally, taking out a second mortgage may actually be the more cost-effective route for a homeowner. For example, your primary mortgage may be locked within a fixed period, requiring you to pay a hefty penalty in order to prematurely close the deal. On the other hand, your first mortgage may even be locked in at an attractive rate. Fortunately, Canadalend.com offers second mortgages with rates beginning at 9.99%.
When in Doubt, Seek Advice from the Pros
Taking on an additional mortgage can be a major decision for many Ontario homeowners. Thus, borrowers will want to be sure they're working alongside experienced professionals who are equipped with solutions for all of their financial needs. Luckily, when it comes time to finance a second home in Ontario, Canadalend.com's team of licensed mortgage experts can help you to navigate the seemingly complex world of mortgage loans.
Borrowers Should Be 100% Confident in Managing a Second Property Before Purchasing
Here's a rule of thumb for anyone to follow before they purchase a secondary property: Never sign a contract unless you're entirely positive that your income will be sufficient enough to support it through every stage. By knowing what you can comfortably afford to spend prior to making such a major investment decision, you can make your choice more confidently and without feelings of high stress or doubt.
Thinking about buying a second home in Ontario?
If you're considering buying a second home in Ontario, let us lend a hand. Canadalend.com grants you access to second mortgages through lenders that don't require you to meet any strict income or credit qualifications, helping to make your dream of acquiring a second home a reality. To learn more about our financing options, or to begin your application for financing a second home, call Canadalend.com at 1-866-I CAN LEND or contact us here.