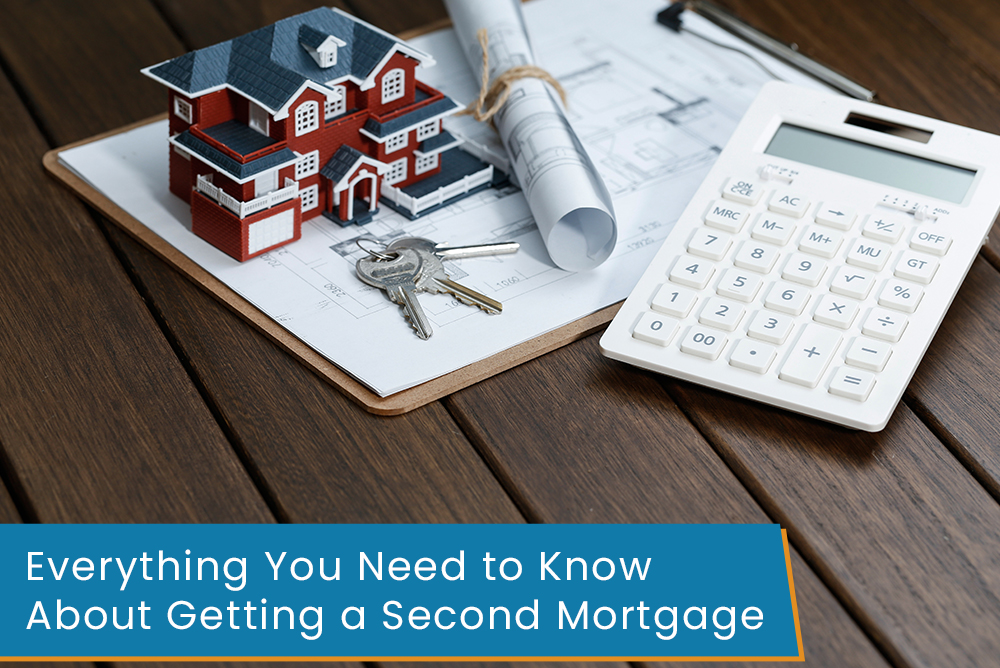 Everything You Need to Know About Getting a Second Mortgage
Posted on 9th August 2023
Tags:
You could consider taking out a second mortgage in Canada for many reasons. You can buy a summer home or expand your real estate portfolio. Whatever the case, learning about the stipulations of getting a second mortgage is essential. 
As you will find out in this article, taking out a second mortgage differs significantly from a primary mortgage loan transaction. This guide will lay down all the facts to help you make the best decision. 
What Exactly is a Second Mortgage?
Taking out a second mortgage means applying for a second loan on a mortgaged property. A second mortgage usually counts as a home equity loan for another residence or a home equity line of credit (HELOC) on an existing property. 
Simply put, you can use a second mortgage to buy another home or cash out the equity you have in your existing home to pay for something else. Typically, homeowners take out a second mortgage for the following reasons:
Consolidate their existing debts

Afford significant home improvement purchases

Fund a down payment for a second home
If you take out a second mortgage, your lender will likely raise your interest rate and lower your borrowing amount compared to your existing mortgage. 
What Are the Different Types of Second Mortgages?
Again, you can get a second mortgage as a HELOC. The usual conditions are having good credit, an existing mortgage, and at least 20% equity in your primary residence. If you meet these prerequisites, your lender will extend a loan you can use when needed. 
You can take out a second mortgage as a HELOC to pay down existing credit card debt, buy a restaurant, or even pay off your student loans. A HELOC is the most common type of second mortgage, and many lenders across Canada provide this option to homeowners. 
Remember that your interest rate can hover between 2.5 – 3%, and you must pay the money back according to the terms set by the lender. In this instance, think of a second mortgage like a credit card.
The next type of second mortgage is called a home equity loan. When you take out a home equity loan, you'll essentially agree to pay the money back in monthly instalments, just like your primary mortgage. 
Home equity loans are widely accessible to homeowners, even with poor credit or little home equity. However, the downside is that private lenders usually finance these loans at very high-interest rates, between 10 to 15%.
Both types of second mortgages use your home's equity as collateral if you default on the loan. It means your lender could repossess your home if you don't pay back the money you owe. 
Why Take Out a Second Mortgage?
You can use a second mortgage to fund any significant purchase within the terms of your loan. Still, here are the four most common reasons why people seek to take out a second mortgage:
Debt Consolidation: Due to its high borrowing amount, you can use a second mortgage loan to consolidate and pay off your debts. You can lump together high-interest debts like credit cards and student loans to pay them all off with moderate interest.

Major Home Purchases: If you want to remodel your home, you can use a second mortgage loan to fund the project. It's essential to ensure that your home's value exceeds the money you're borrowing to make a profit.

Starting a Business: Applying for a second mortgage loan is usually the easiest way to start a business. Many lenders will even give you generous term conditions that will allow you to repay the loan when you start making a profit.

Purchasing a Second Home: Finally, you can use a second mortgage to fund a down payment for a second home. Most of the time, a down payment is 20% of a home's total value. Once approved, you'll repay the loan in monthly instalments plus interest. 
How Much Can I Borrow with a Second Mortgage?
According to the Canadian government, you can borrow up to 80% of the total value of your home once you subtract the current balance on your first mortgage. For example, if you own a home worth 200,000 CAD, you could borrow up to 160,000 CAD on your second mortgage. 
Nonetheless, the average borrowing limit for second mortgages for a HELOC is 150,000 CAD. You can bypass this amount by borrowing from a private lender. However, expect to pay a high-interest rate if you choose that option. 
How to Qualify for a Second Mortgage
While every lender is different, all of them will assess your financial worthiness using the three following criteria:
Equity: The total amount of money you've already paid on your mortgage loan. It's simply the percentage of the home you own. The more equity you have, the more collateral you can use toward your second mortgage. Generally, you can qualify for a home equity loan with under 20% equity. You can qualify for a HELOC if your equity is above 20%.

Income: Your lender will assess your income to ensure you can keep up with the payments of your additional mortgage. Debt will also play a factor here since the lender wants to ensure you can manage new debt on top of your primary mortgage.

Credit: If you have a credit score of at least 650, you can qualify for a second mortgage. The better your credit, the lower your interest rate will be.
Get Help with Home Equity Loans with Canadalend
As you can see, taking out a second mortgage can be used to make emergency payments or fund a significant purchase whenever needed. Depending on your lender, you can apply for a home equity loan with favourable terms that will give you peace of mind.

If you're ready to explore your options, the friendly team at Canadalend will help you choose a suitable lender. 
To learn more about our home equity loan solutions, call Canadalend.com at 1-866-I CAN LEND or contact us here.