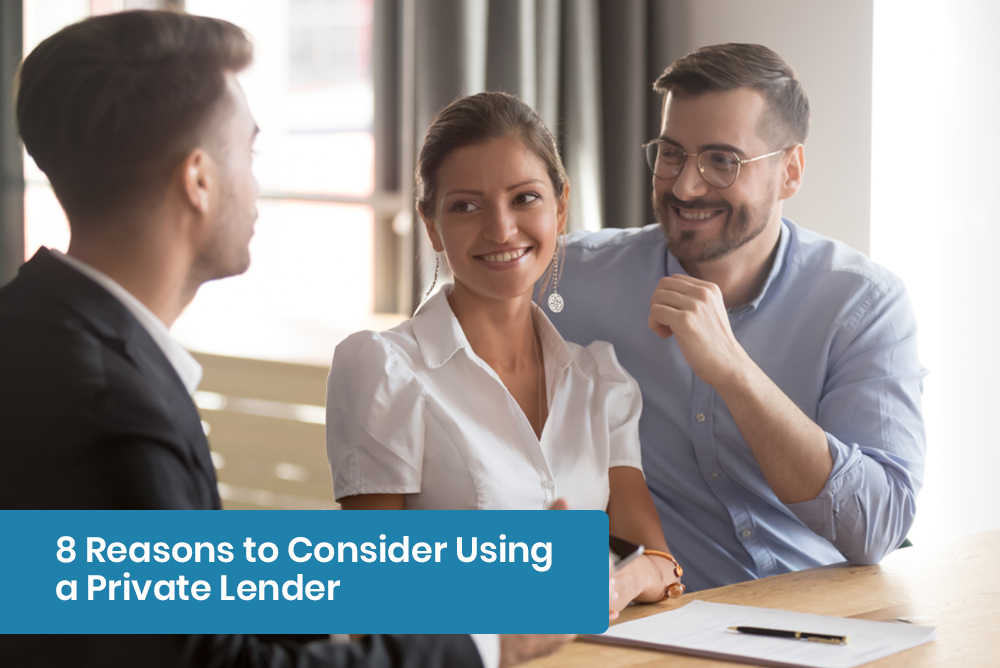 8 Reasons to Consider Using a Private Lender
Posted on 27th January 2022
Tags:
Have you been thinking about investing in property, but don't have the funds? You can apply for a loan from many lenders if you meet their requirements. Nonetheless, you should explore all of your borrowing options, and ensure you work with only the best lenders before agreeing to an agreement.
Private lenders are a popular choice in the real estate market, and they have many advantages. Prior to taking the plunge, you need to educate yourself about private lenders if you have never dealt with one before. You will benefit from a private lender in the following ways:
1. Generally, private lenders have fewer requirements
The paperwork and requirements are one factor that discourages people from applying for loans. Compared to traditional lending institutions, private lenders have much fewer requirements. The only requirement for borrowing against a property is sufficient equity, enough cash for payments, and a sound exit strategy.
When you have few requirements, it will be easier for you to get your loan approved. The majority of lenders with a lengthy list of requirements will decline loan applications. By making qualifying for a loan difficult, they hope to keep away borrowers, as opposed to private lenders.
2. Flexible loans are offered by private lenders
Different variables need to be considered when applying for a hard money loan. Examine the interest rate, loan fees, and other requirements. A private lender allows you to negotiate all these terms, and you can choose the ones that are most advantageous to you. Several lenders are available, so you can compare their terms until you find the one that suits your needs. With such flexibility, these loans are among the best options available.
3. Control over the process is 100% yours
You determine the terms of your real estate loan when working with a private lender. Generally, the type of loan allows you to control the process to an extent. You have the ability to make every decision you want without sacrificing anything. It is not necessary for either you or the lender to adhere to strict policies outside of the company. You can negotiate all of the terms of the loan facility with the lender; he or she will determine the best interest rate. You can use this to establish a more positive relationship with your lender.
4. Collateralizing property with real estate
A borrower is more confident in his or her loan if they have collateral. As well, private lenders don't have to be concerned when they lend huge amounts since there are backup plans in case things don't work out. In addition to being able to get a large loan amount with collateral, real estate loans are also faster and easier to get approved for.
5. Improvement of creditworthiness
Private lenders can increase your credit score if you take out a loan from them. Your future financial history can be greatly impacted by debt depending on the situation. Your lender will have more trust in you if you borrow and pay on time. A positive track record for 12 months is often required by lenders to ensure a good credit history with private loans.
You will have better opportunities to get a new loan if you have a good credit score. Those who want to improve their credit scores should make sure they don't miss any payments.
6. Getting a loan approved and funded quickly
Private lenders are best because they provide your loan application approval quickly, and the money appears in your account swiftly. Your loan could be approved in just a few weeks, and you'll have the money in your bank account within hours. Your only task is to make sure everything is in order during the application process, and arrange an appraisal as soon as possible.
In the loan process, private lenders look at factors like the property you own, the down payment you made, and your equity. The exit strategy for the property is also examined, as well as the cash reserve for the loan payment. The money will be sent to you immediately if all of these appear reasonable.
7. Private lenders can provide funds to projects if they cannot otherwise be funded
Traditional lenders like banks are hesitant to finance projects that private lenders are willing to finance. A fix and flip loan, for example, does not typically work with traditional bank financing. Investors purchase properties, do renovations, and then sell or refinance them using short-term loans.
These short-term loans may not be offered by other lenders because they must pay interest over the long term. Investors may also need to take out private loans if the property is in poor condition to qualify for a bank loan.
8. Simpler process for approving loans
The process of applying for a loan is simplified with fewer requirements. So long as consent between two parties is present, the loan process is relatively straightforward for both lenders and borrowers. Borrowers are able to take advantage of better facilities and traditional loan advantages.
Additionally, the lender would benefit from this, as nothing would slow down the issuance of loan funds since the collateral can be used immediately. These benefits translate into flexible and straightforward hard money lending for both parties.
Summary: Lenders of Private Equity Come to the Rescue
Investors in real estate have the best chance of financial success when they take out a loan from a private lender. Understanding all the requirements and the risks involved is vital before submitting an application. By shopping around, you can find various lenders, compare their terms, and choose the most appropriate one.
When buying property right away, a private lender will close your loan faster, and with less aggravation for you. The borrower will also be able to grow their business faster, which will justify the additional short-term costs associated with a private lender.
Real estate investors should not select the lender based solely on its lowest cost. It can take weeks or even months for a potential borrower not to qualify for a bank loan to receive a decision, whereas a private lender can approve them in a matter of days and then fund the loan.
There is a possibility that the most affordable loan at the beginning may be the most expensive one in the end.
To learn more about private lenders in Ontario, call Canadalend at 1-844-586-0713 or contact us here.