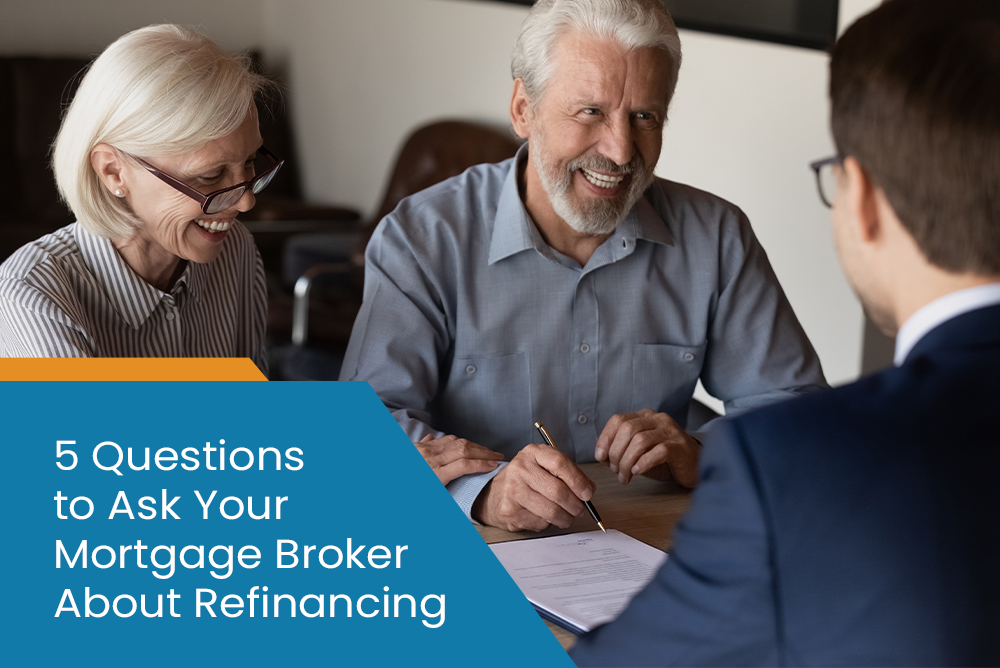 5 Questions to Ask Your Mortgage Broker About Refinancing
Posted on 24th October 2023
Tags:
When you want to revise and replace the terms of an existing loan agreement, this is referred to as refinancing. One of the most common types of loans that is typically refinanced in this way is a mortgage. 
Refinancing a mortgage essentially involves rearranging the mortgage agreement to make favourable changes to certain factors, such as the interest rate, payment schedule, or mortgage type. If these changes are approved, the borrower's new mortgage contract replaces the old one. 
Most of the time, borrowers try to refinance certain debt obligations and obtain more favourable borrowing terms in response to shifting economic conditions or because their credit profile has improved since the initial mortgage agreement.
If you want to refinance your mortgage, it is necessary to approach either your current lender or a new one to make this request. You will then have to complete a new loan application.
Once you apply, your credit terms and financial situation will be evaluated, and an appraisal will be done on your home to establish its current market value. Then, the lender will extend an offer for a new rate and terms. If you agree to them, you can sign your new agreement, submit the necessary documentation, and pay the necessary fees to finalize the refinance.
Why is it important to ask your mortgage broker the right questions?
The mortgage refinance process may seem straightforward enough. Still, it is always crucial to ask professional mortgage brokers the right questions during this process to ensure you get the best deal possible.
Although the objective of a mortgage refinance is always to improve the terms of your agreement with the ultimate goal of saving you money, some refinance agreements will be better than others. This means it is necessary to do what it takes to secure an agreement that will best help you meet your financial goals. 
Therefore, you will need to discuss these matters with your mortgage broker and, most importantly, ask them the right questions to get the answers you need.
What are the best questions to ask your mortgage broker about refinancing your mortgage?
Many vital questions are worth asking your mortgage broker when refinancing a mortgage. However, the following are some of the most crucial things to inquire about if you want to end up with the best mortgage refinancing situation for you:
1. Will refinancing benefit my current situation?
A good mortgage broker will be able to help you figure out whether refinancing is the right call for you after considering your financial situation as a whole, along with your ultimate goals.
There are several ways that a mortgage refinance could potentially help you, including the fact that it could grant you access to lower interest rates and lower monthly payments. It could also help you consolidate all your debts into one monthly payment.
2. Will there be any break costs, and if so, how much will they be?
It is essential to understand whether you will be facing any break costs if you refinance your mortgage. In most cases, this kind of fee only applies if you break a fixed-rate mortgage contract to switch to a variable-rate mortgage loan. However, a broker can help you figure out whether or not you will owe such a fee and how much it will be.
3. How much does it cost to refinance?
There are multiple costs that are generally associated with refinancing your mortgage. Thus, it is better to have a solid understanding of all these costs early on so that you can decide if it is worth proceeding with the process. 
These costs typically include the upfront fees your lender charges, the new loan application fee, the fee for evaluating your property, Lender's Mortgage Insurance (if you still owe more than 80% of your home's purchase price), and stamp duty fees.
4. Will I be able to access the equity in my home?
One of the biggest reasons many people choose to refinance their mortgage is to access their home's equity. Obtaining this equity could be helpful if you want to renovate your home, invest in a new property, or consolidate your debts.
However, the amount you can release depends on how much you still owe on your mortgage and your property value. Therefore, it is a good idea to question your mortgage broker about whether you can release your equity and how much you can release.
5. Should I choose a fixed or variable rate loan?
It can be quite challenging to decide whether you want to go with a fixed or a variable rate loan when you take out your new mortgage. If you are unsure which direction to take regarding this decision, you can ask your mortgage broker about the pros and cons of each option.
After taking your financial situation and goals into account, they should be able to offer you some guidance about the type of loan to apply for when you refinance.
How Canadalend Can Help Answer Your Questions About Mortgage Refinancing
If you want to ensure that you are dealing with professional mortgage brokers who will be able to answer all of your questions relating to mortgage refinancing, Canadalend can help.
As one of Ontario's most reliable mortgage brokerages, we take pride in helping our clients secure mortgages that work for them and allow them to reach their financial goals. Our team of professional mortgage agents has access to banks, credit unions, and alternative/private lenders, and we will ensure that you can obtain the most competitive mortgage rates on the market.
The specialized industry knowledge that all of our agents possess relating to products, features, and rates makes it easy for us to answer any questions you may have about mortgage refinancing, no matter how general or specific they may be. 
We make it our priority to foster a friendly environment so that all of our clients know their questions are always welcome, and we do everything possible to show our dedication to getting you the mortgage products you seek. For your convenience, our agents are available seven days a week to help advance your mortgage application because we also value speed and efficiency.

For more information about how our agents can guide you through the mortgage refinancing process or to schedule an appointment with one of our agents today, call Canadalend at 1-844-586-0713 or contact us here.