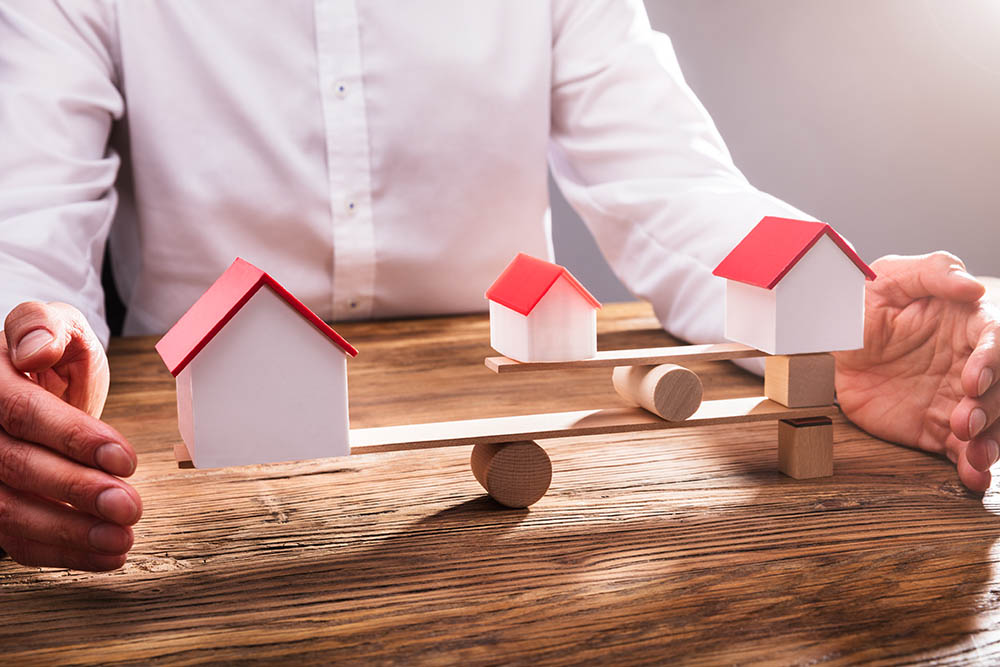 Four ways to leverage your home equity for extra or emergency cash
The COVID-19 driven economic downturn has been hard on Canadians: unemployment rates have risen to record highs, with 44% of people across the country losing income due to the pandemic, and over  2.8 million enrolled for CRA benefits.
With loan and credit deferrals soaring, it's clear that Canadians are more cash strapped than ever before.
If you're a homeowner seeking extra or emergency cash, home equity financing allows you to access a line of credit or a lump sum deposit, at far lower interest rates than those available on personal loans or credit cards.
What is home equity?
Home equity refers to the total amount of your wealth tied up in your home, and is calculated by subtracting the outstanding amount owed on your mortgage from the current value of your home. For example, if your home is worth $350,000 and you owe $200,000 on your mortgage, you have $150,000 in home equity.
The longer you've owned your home, the more home equity you're likely to have: home equity typically increases as you pay off your mortgage, and as the value of your home appreciates over time.
Most homeowners who make regular mortgage payments have a significant amount of home equity built up, particularly as values of homes across Canada have skyrocketed in the last decade.
The loan amount available to you will depend on the amount of equity you have accumulated in your home, and which home equity financing option you choose.
1) Home Equity (Second Mortgage)
As the name implies, a home equity loan is a loan secured against your home - essentially a second mortgage. Second mortgages allow Canadian homeowners to borrow up to 80% of their appraised home values, minus the balance on their first mortgage.
With a second mortgage, you'll receive your loan as a one-time lump sum deposit.
As implied by the term second mortgage, you will now have two mortgages, both of which you will need to repay in fixed monthly installments. As home equity loans have fixed interest rates, your repayment amount for this second mortgage will be the same each month.
Whilst interest rates on home equity loans are usually higher than on first mortgages, these second mortgages still offer far better rates than either personal loans or credit cards.
Second mortgage rates are, however, higher than those on first mortgages. In the case of default, your first mortgage would be paid off first, which makes second mortgages an inherently riskier product for lenders.
2) Home equity line of credit (HELOC)
A HELOC is a line of credit backed by your home equity, which works pretty much like a credit card - but with far lower interest rates. You'll have access to a line of credit, from which you'll be able to withdraw instant cash, up to a certain credit limit.
This line of credit will be available to you for a fixed time frame, typically around 10 years. At the end of this "draw period', you must begin repaying the borrowed amount over the term of, usually the next 10 to 20 years.
Interest rates on a HELOC are variable, which means that they will fluctuate over the repayment period.
Mortgage refinancing - also known as remortgaging - involves replacing your existing mortgage with a new mortgage, typically one with more favourable terms, such as lower monthly payments or lower interest rates.
In a cash-out refinancing, or home equity refinancing, homeowners refinance their mortgage for a greater amount than the amount owed on their existing mortgage and take out the difference in cash.
To qualify for a cash-out refinancing in Canada, you'll need at least 20% equity in your home. You'll be able to borrow up to 80% of the appraised value of your home, minus the balance on your mortgage or any other loans secured against your home, including any credit owed on a HELOC.
As interest rates on the refinanced part of your mortgage are calculated separately from interest rates on your original mortgage, cash-out refinancing is a particularly valuable option in the current low-interest environment.
For Canadians aged 55 and above, a reverse mortgage is a home-equity option that allows homeowners access up to 55% of their home's value in credit. Funds can be advanced either as a lump sum payment, in pre-determined monthly installments, or as a line of credit.
Unlike other mortgage products, a reverse mortgage requires no repayment of the loan until the homeowner sells or no longer lives in the property. The proceeds from the home's sale will go to the lender, repaying the principal, interest, insurance, and fees.
Any proceeds from the sale that exceed the loan amount will go to the homeowner or their estate, who will also have the option to pay off the mortgage and keep the home.
Interest rates on reverse mortgages may be fixed or variable, and are typically higher than those on a first mortgage, but significantly lower than interest rates on second mortgages.
Why choose a home equity financing option?
If you're a Canadian homeowner seeking extra or emergency cash-on-hand, it's important to keep in mind that credit cards and personal or payday loans are not your only option.
You'll likely get far better interest rates - and equally fast and flexible financing - by choosing to leverage your home equity instead.
If you're interested in home equity financing, feel free to give us a call or book a free consultation. At Canadalend, our mortgage experts are always glad to answer any questions or guide you through the process.